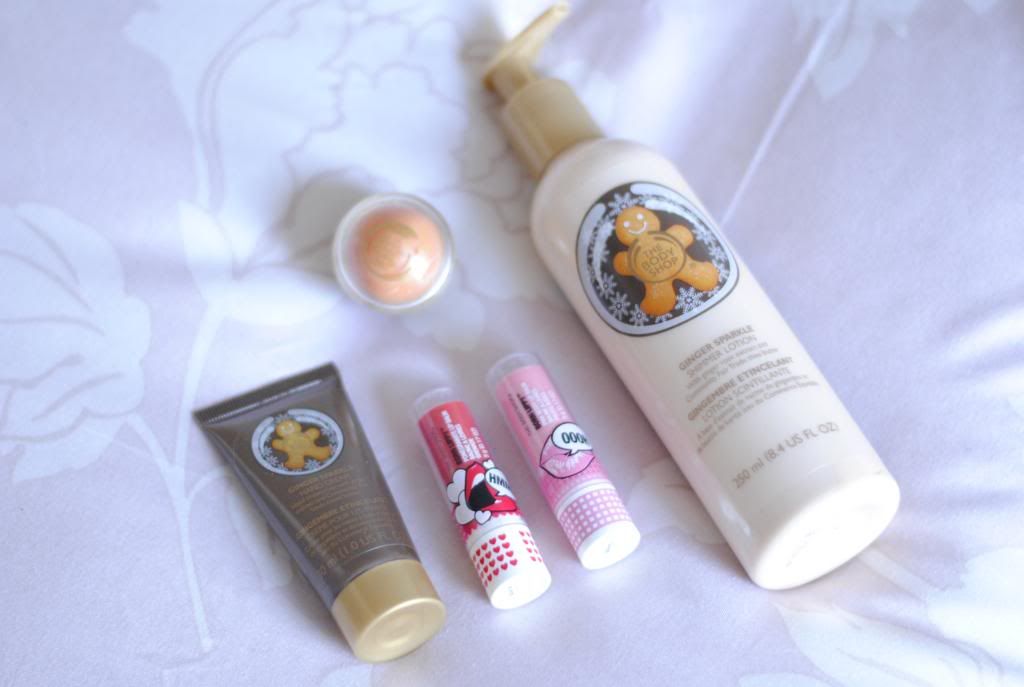 I don't normally buy from The Body Shop but a friend of mine recently starting doing parties and after having a quick gander at what she had in her kit I placed an order. I didn't even make the party but still managed to buy something - just like me!
*
I bought several items with the lovely Christmassy Ginger scent including the
Ginger Sparkle Hand Cream
, the
Ginger Lip Balm
and the lovely
Ginger Sparkle Shimmer lotion
.
The scent is so warm and sweet and the shimmer is lovely and subtle so very pleased with these purchases.
*
I also purchased two of the Born Lippy lipbalms. This was mostly because I bought the Maybelline Babylips a while ago and loved the colour payoff but found them not to be very moisturising at all. I hoped that these lipbalms from Body Shop would have a nice hint of colour but be lovely and rich.
The
Pomegranate Born Lippy
has a great pop of red to the lips and a lovely flavour and was very moisturising. The
Pinkberry Born Lippy
has a nice pearly pink sheen and again is very moisturising but I wasn't as bigger fan of the taste/scent of this one. I'd love to try the darker one Toffee which looks like it might be a nice brown shade.
*
That's my mini haul. Lots of lovely Christmassy items, and yesterday we put our tree and decorations up which has got me very, very in the Christmas spirit. I also did a Christmas Fair on Saturday selling some Vintage and handmade bits, including some baubles made of wood and hand decorated with fabric, lace and beads. You can find the last few in my
Etsy shop
.
I love haul posts so do share your link to yours below, be it beauty or fashion I'd love to read them.