I thought I'd do a very quick glimpse at some of the things I got this Christmas. I was very lucky this year and got some lovely gifts and I've had a good nosey at some other blogger's pressie posts so here's mine for you guys to nosey at.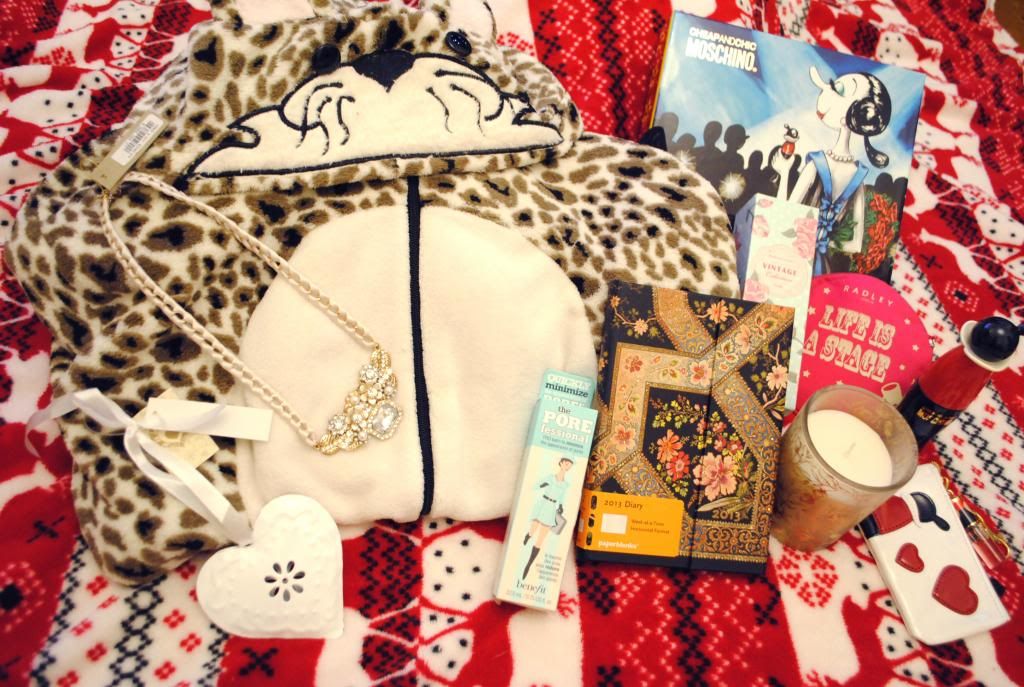 Metal Heart Ornament / Jenny Packham necklace / Bear Onesie / Benefit Porefessional / Diary / Moschino perfume and purse / Candle / Rose handcream / Radley packaway bag / Primark Fleece throw
My onesie got worn almost straight away! I love it and the Jenny Packham necklace from my fiance is so beautiful I'm going to wear it New Years Eve.
Have yet to try the Porefessional but have heard lots of good things about it and am hoping to wear it under my beloved new favourite foundation Estee Lauder Double Wear for my wedding.
My mum and dad got me the Moschino perfume and it came with the cutest coin purse with a mini perfume keyring too.
I got some lovely vintage style gifts including this Rose handcream and some very practical presents like this clever fold away shopper from Radley. I also got a few different candles this year, all lots of lovely christmassy smells, this gold decorated one is gorgeous.
And I've spent the last few days snuggled up under this furry fleece throw from Primark.
What did you get for Christmas this year??
Have you done a post – leave me a link so I can see your pressies too x