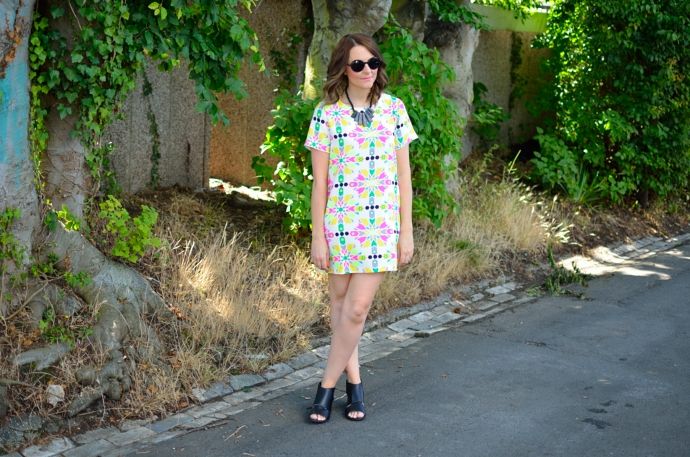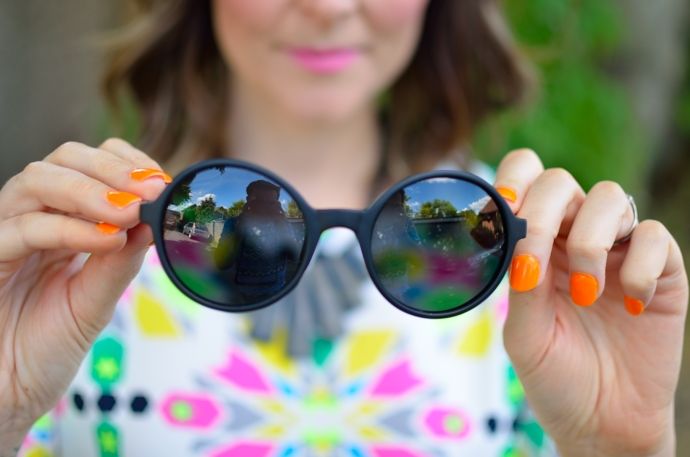 Dress – Shelikes*
Necklace – Boot sale
I love a simple shift dress. They are so easy to wear and dress up or down. This one has the most amazing neon pattern. Its from Shelikes and they have a flippin amazing stock of gorgeous shift dresses all around £20. I've got my eye on a gorgeous blue and yellow one!
I'm wearing it with my Faith sandals from Debenhams. I got them for Paris but couldn't fit them in my case!!! They are nice and low and comfy and have that cut out and slightly ugly shoe shape to them which is so popular at the moment. I really like them with a simple dress like this but I've also worn them with my boyfriend jeans too.
*
I am loving these round sunglasses too that I got at a Next event. They've got a real retro vie about them which is probably why I teamed them with this dress, its pattern kind of reminds me of a 70's print. I own so many sunglasses its unbelievable but I have not stopped wearing these. I'd love a big cats eye style pair, that's the only shape I don't really have.
*
Today I have the day off work and its also the hottest day of the year, so I plan to spend my day painting furniture outside. I'm painting our dining table and chairs white.
Hope your all gonna catch some sunshine today too x