I was lucky enough to be asked by Debenhams to style up one simple
Red Herring scarf
and create six distinct looks to fit in with their "On a budget" campaign. The feature is now live on their Facebook page (
see the post here
)
so check it out.
Here in more detail are my six outfits and how I created them. Hope you like them, let me know your favourite in the comments x

My Casual look is created by loosely draping the Red Herring scarf* round my neck. I've teamed it with my Primark ripped jeans and Peacocks Leather Jacket* and Peacocks pumps*
*
My Headscarf look was created by tightly twisting the scarf before tying it around my head and a big bow on top. The look is given a vintage feel with a Leopard fur coat from Boohoo and ripped jeans.
*
For my Shawl look I draped the scarf around my shoulders to go with my Missguided Swing dress and gorgeous Temporary Secretary jewelled collar. I also wore coloured tights and my new Primark Ankle Strap wedges.
*
To create the Snood look I tied the two ends of the scarf together and the wrapped the looped scarf round my neck twice. I teamed it with a simple off the shoulder Bardot top from Missguided and my burgundy skinnies from H&M
*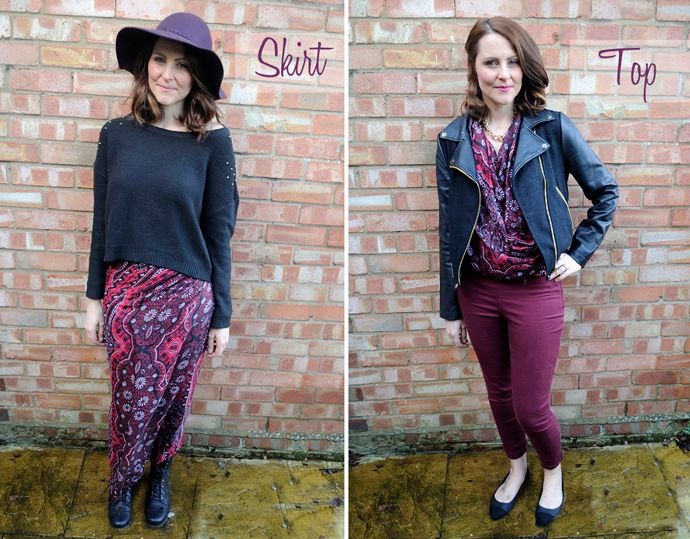 The Skirt look was created by wrapping the skirt twice around the waist and tying the two ends in a knot. I also wore the burgundy tights again underneath for extra warmth. The look was finished with a simple black jumper, chunky utility boots from Peacocks* and lovely felt floppy hat from Matalan.
*
Finally the Top look is created by tying the top two corners of the scarf together and placing over your head. Then fold up the excess scarf and tie the bottom two corners behind your back. It creates a lovely cowl necked halter style top. Would be fab for summer over your bikini too!
The look was finished with the same biker jacket and burgundy skinnies.
*
Hope you like my six looks – which is your fave?