I bought myself an iPad Mini just before Christmas after selling my old one, but for any of you who were lucky enough to find one in your Christmas stocking here are some apps I really recommend perfect for any Fashion or Beauty blogger to download right now and they wont cost you a penny!
BLOGSHELF II
"Read your favourite blogs in frictionless, clean and fun experience"
I had Blogshelf on my old iPad and was sad when they stopped developing updates for it. I'm so happy to say they have created Blogshelf II.
I love this app for reading blogs. It displays them beautifully and you can rearrange them easily by drag and drop. Posts can be read in the app or you can click a link to view the post in its original web format. You simply find blogs by searching by name or genre and it truly is my favourite way to read my most loved blogs.
One downside however is it is not very easy to comment on blogs from this app. To do this you have to click the title of the post, view clean article and then view article in Safari at bottom – this then loads the original blog post which you can use the Blogger comments box. Its a big downside to this app and one that doesn't help encourage commenting on blogs – which is so important to blogging.
*
MALLZEE
"The personal shopper at your fingertips.  Mallzee finds clothes suited just to you. Shop ASOS, Urban Outfitters, Forever 21 and more, sharing your fashion finds with friends before you buy!"
The Mallzee app is pretty damn cool. A fashion app that learns what you like, you swipe left for items you wanna get rid of and right to say you like it. Gradually the app builds suggestions of items for you based on your answers. You can buy items through the app, or save items for later and even get friends to vote on items for a second opinion. I really like it, its clever and really easy to use.
So far they have brands like ASOS, Miss Selfridge and Forever 21. I think with a couple more brands (please get New Look!) this app will definitely be one of my favourite ways to shop.
*
BLOGGO
"BlogGo lets you post, edit, and publish to your Blogger™ blog on the fly. Its refined yet simple-to-use interface is the no-fuss solution for getting your words and photos out of your device and onto the internet "
Blogging is pretty hard from an Ipad, I've never used mine for it as I like my laptop. I like to take my photos off my camera using an SD and use photoshop, resize them etc etc. The Ipad just doesn't let me do this. However this app does make it very easy to post quick simple posts to your Blogger blog with images from your Ipad/Iphone and has the added bonus of letting you manage your comments and read your followed blogs. PLUS (and this is very cool) this app allows you to use the microphone to dictate posts into the app!! I can't wait to try this.
Do be aware though as with lots of these kinds of apps you cannot edit or publish a post that has been drafted on a computer! Its a limitation true but still a pretty good stab at getting blogging on the Ipad easier and simpler.
*
CHROME APP & PIC FX
"Picfx provides you with over 100 refined, layerable effects for your iPhone photography."
The Chrome app is a must have for any blogger who's had trouble commenting on blogs via Safari on the Ipad. This app has none of those issues and has the bonus of always defaulting to Google (if your a someone like me who googles everything!!!)
*
The Pic FX app is a photo app that you've probably seen used all over Twitter and Instagram but might not have known what the app was called. Those lovely light flares and Bokeh light balls you see in lots of photos are all created using PixFX. Effects are grouped into SETS including Light, scratches, textures, frames etc and can all be layered onto your photo and the photo transferred instantly to Instagram or shared elsewhere or saved to your camera roll.
I love this app – especially the heart shaped Bokeh in the Light Set.
*
A BEAUTIFUL MESS
"Your life is beautiful. Your photos should be, too.
Add new life to your favorite photos with custom filters, fun fonts, and hand-drawn doodles by Elsie and Emma"
You've probably all got this app already, it is one of the most loveliest photo apps ever. Add cute borders and doodles to your photos and even write your own text. Perfect for giving your photos a bit of a cute chic twist. The app has been updated now to include a collage option which is really cool.
Again transfer your image straight to Instagram or share it on your Twitter or Facebook.
*
INSTACOLLAGE
HD Collage maker – Limited time the HD version is free! Otherwise Instacollage free is available.
This app helps you quickly create collages of your iPhone/iPad/Instagram pictures. Its a great way to quickly make Instagram round up posts for your blog and you can pick a variety of frames and adjust widths, curves and colours etc.
Really easy to use and simple drag and drop to move photos around.
*
FLIPAGRAM
"Create beautiful short video stories using your Facebook, Instagram and Camera Roll photos, set to music you love!"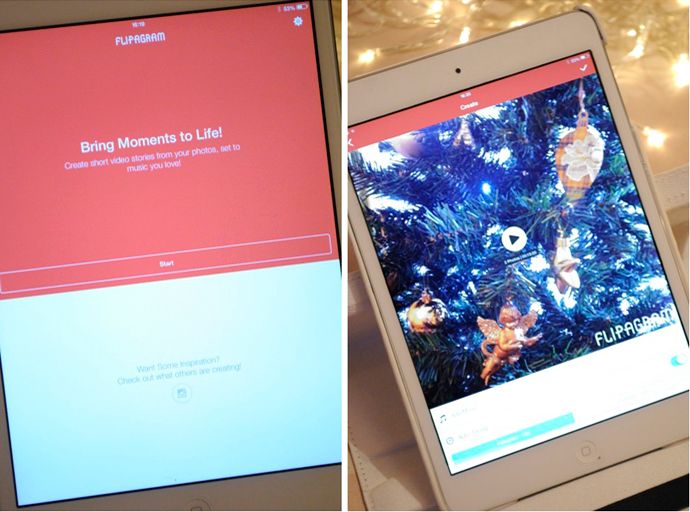 Now some people are sick of the sight of these short video's you can create using Flipagram. Not me! I think its one of the best apps I've downloaded in ages! Select your photos, adjust the speed, add a title and add music from your library and voila – your own flipping video of your pictures.
You can use your iPad/iPhone photo albums or Facebook and Instagram pictures to create your video and the effect is so beautiful. I've done several including a couple of short ones of shots of my dog and one of all my selfies!! (has to be done right!) using only my Instagram pictures but I also made a longer one and a bit slower of nearly 100 shots from my wedding day in May all taken from pictures friends took on the day and on Facebook and to celebrate the end of a great year. It took me a while to get it perfect but I loved seeing all those shots to music.
If you don't have this app – get it and make yourself a video now!!!