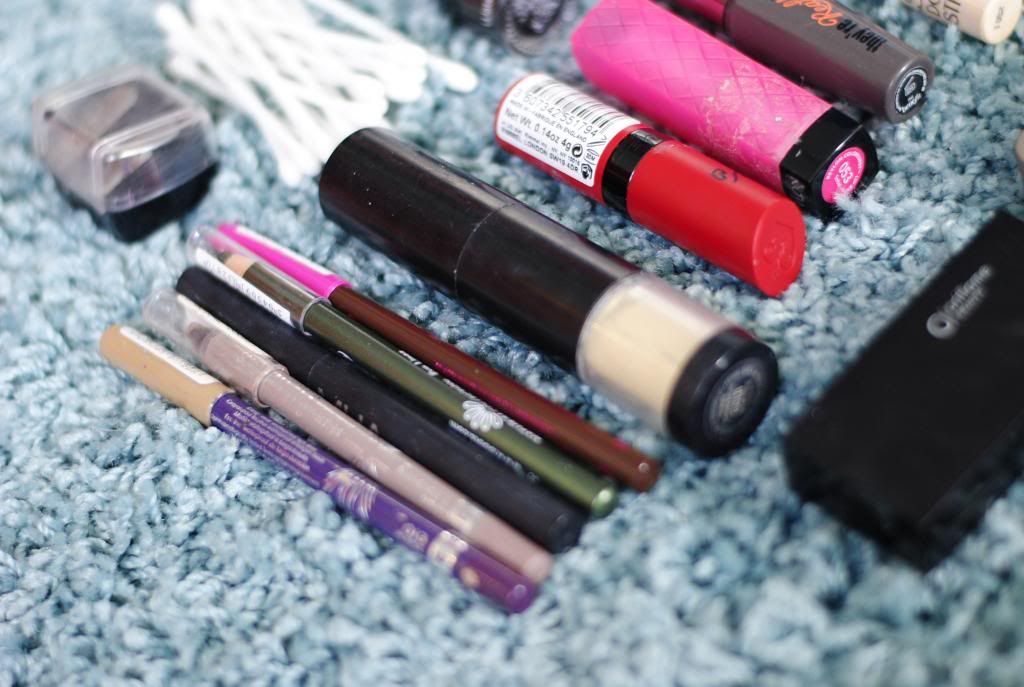 Real Techniques Core collection
Real Techniques Face Brush
Naked 2 palette
Oriflame Brow Kit
Selection of eye pencils (Natural Collcetion & Rimmel)
Glitter Shimmer Dust Brush (gift)
Rimmel Kate Moss Matte in 113
Revlon Lip Butter in Raspberry Pie
Benefit They're Real Mascara
Instain mini blusher from my July Birchbox
Benefit Stay dont Stray eye primer
Oriflame Volume Build Mascara in black
Laura Mercier Silk Creme foundation
Rimmel Stay Matte Foundation
Benefit Erase Paste
Maybelline Dream Lumitouch highlighter
Laura Mercier Lip Gloss in Bonbon
Rimmel Stay Matte powder
Natural Collection Lipstick in Rose
Revlon Lip Butter in Juicy Papaya
LOOK Mini makeover palette
Laura Geller Gel Liner
This was my capsule makeup kit that I took with me on honeymoon. Of course I took my Naked 2 palette as it has so many combinations great natural colours and plenty to create lots of different looks. I did also purchase just before I went the Mini Makeover palette by LOOK beauty in Pretty Green Eyes which had some lovely brighter eye colours and some fab lip colours which I did use including a bright orangey toned red.
*
I packed both my Revlon Lip butters and actually did buy ANOTHER one at the airport too in a softer pinks shade – mostly because I forgot to pack my Babylips in Pink Punch.
I also wore my Laura Mercier Lipgloss alot too, its in the shade Bonbon which is a corally pink
(see it in my Louche Outfit post here)
*
I packed my Oriflame Brow Kit over my Benefit one as the colour is much more suited to my brows, I find the Benefit one a bit dark. I may do a post on this Brow Kit on the blog soon.
I also packed my Oriflame Volume mascara which I got in goody bag but has become my everyday mascara as its really thickening and not clumpy at all.
*
I also took my sample of Laura Mercier Silk Creme foundation which has such an amazing feel to it, but became too pale as my tan developed but definitely a product I plan to invest in once my tan has faded!!
What's in your core makeup packing list??