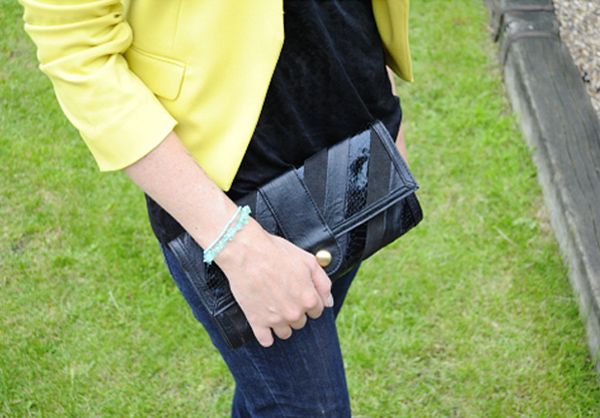 Blazer – H&M
Tshirt – Primark
Necklace – Accessorize
Bracelets – Made by Auntie
Jeans – Levi Curves
Clutch – Accessorize
I ve been hunting for a really bright yellow blazer all Summer and I finally spotted it in H&M, not on a rail but in the hands of another customer. I then preceded to run around H&M trying to find said blazer only to give up and walk over and ask her where she picked it up from!!!
Its a lovely neon yellow colour and has no collar and nice ruching detail on the sleeves which makes them 3/4 length.
I wore this outfit to a friends 30th Birthday party and I kept the blazer on all night I love it so much.
The necklace is one of my newest statement jewellery purchases and came from the Accessorize sale. Now I normally wait until the sale has shifted to 70% off but there was only one of these so i bough it with 50% off there and then!! Funnily enough the clutch is also from the Accessorise sale several years ago and is my go to black clutch bag for any occasion!
As you can see Eddie still likes to make his appearances in the back of my outfit photos! he's such a nosey dog and is peering over next doors fence in the photo.
I am loving the warm weather and am trying to cram all my lovely summer clothes I've bought into the little time the sun will probably stick around for. Ive so far this week worn denim cut offs, tribal hareem pants and cropped chinos! Love it.
I have a week off work next week. we're not going away anywhere as we're saving for the wedding but we are off to Brighton for the day to try and buy my wedding band. My engagement ring is a 1950's antique ring so I'd like a antique ring as my wedding band too. Brighton has a lovely winding street with lots of antique jewellery shops so that's why we're heading there.
We might also hit up Ikea for some bits too if we can brave the crowds at lakeside. I'm also gonna spend some time restoring more jewellery for my
online store Bang On Vintage
and adding new stock online which always takes AGES!!!!
What have you got planned for the next few weeks???